Menu
Download
Polub nas!
Online
Apple Final Cut Pro X v10.0-P2P (MacOSX)
Apple Final Cut Pro X v10.0-P2P (MacOSX) l Size: 3.28GB
Final Cut Pro X… Completely redesigned from the ground up, Final Cut Pro adds extraordinary speed, quality, and flexibility to every part of the post-production workflow.
Here's the brand new Final Cut Pro X for …Mac OSX. As usual, all mac pp store can be cracked very easily, just follow instruction in the release folder.
OK… This is clearly an amazing product that isn't ready for primetime. I realize this is a 1.0 release, so I'll give them time to add the needed features in order to be a 'pro' app. As of now, it certainly isn't. UI is fantastic, speed is blazing… but the core functionality that pros use daily isn't just lacking, they aren't there at all.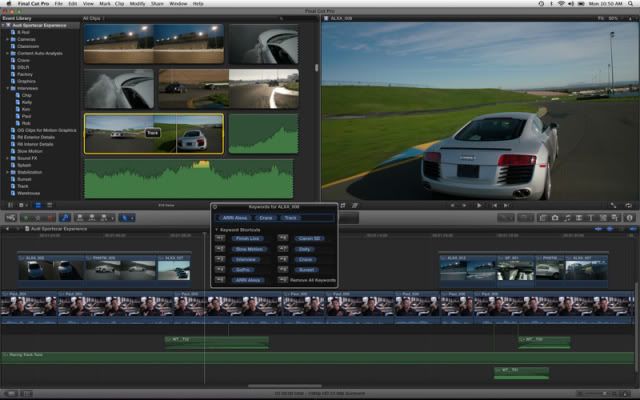 Minimum System Requirements
-Mac computer with an Intel Core 2 Duo processor or better
-2GB of RAM (4GB of RAM recommended)
-OpenCL-capable graphics card or
-Intel HD Graphics 3000 or later
-256MB of VRAM
-Display with 1280-by-768 resolution or higher
-Mac OS X v10.6.7 or later
-2.4GB of disk space
Informacja
Użytkownicy z rangą Gość nie mogą dodawać komentarzy.