Menu
Download
Polub nas!
Online
Queen of Disco (2010)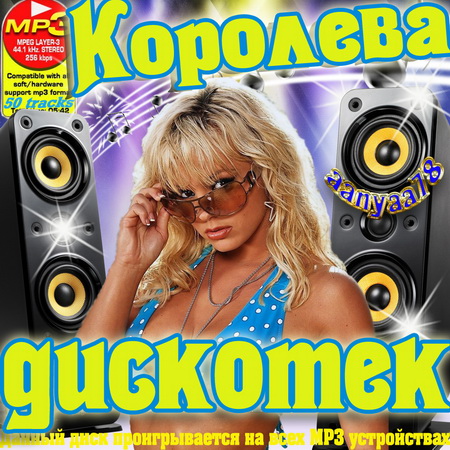 Category: Collection
Artist: VA
Disc title: Queen of Disco (2010)
Genre: Pop / Club
Year: 2010
Number of tracks: 50
Format | Quality: mp3 | 256 kbps
Length: 3:29:43
File size: 387 MB
Tracklist:
01.Tanya Vorzheva - Queen of Disco
02.Illyuziya Nights - Tell us
03.Radius - ascend to Heaven
04.Mark Pride - I Love You (Original Mix)
05.Diana Miro feat. Andi Vax - Look Inside My Dreams (Kasa Remixoff Remix)
06.Anna FOX - Embrace (M-Power Project Remix)
07.Ekaterina Danilova - Summer Sun Rays
08.Karina (Vartanian Karina) - In the Club
09.Elektra - Breathe (Dj Simon Remix)
10.Gruppa H2O - no love
11.Dima Kim - No GMO
12.Illyuziya Nights - Star Mystery
13.Brain Blast Project - Heart On Fire (Original Mix)
14.DJ Kopernik - Knockin 'on Heaven (Radio Version)
15.Dj Rockwell - Parting Again
16.Znaki a question - My
17.Mr.Slan & Suren V.-On the Double
18.Kalwi & Remi - Kiss (Club Mix)
19.Selena Gomez - Round and Round
20.Anastezia - Lyrics
21.Ciara feat. Ludacris - Ride (Abe Clements Radio Edit)
22.Avanza - Conditioned Reflex
23.Beachclub 69 feat. Inusa Dawuda - Revolution (Bodybangers Remix)
24.DJ Generous - Wake Up (Club Cut)
25.Santi - Love the colors Granata 2010
26.Shahzoda - I Love You (Eric Chase Remix)
27.Illyuziya night - You're Forever With Me
28.Katya Buzhinsky - Repent
29.Propaganda - Before the Moon at Metro (Alex Dea Remix)
30.Liliya feat. Avionics Project - Sunrise (Radio Edit)
31.Tiesto - I Miss You (Original Mix)
32.Poyuschie Pants - Well you're a girl
33.Sam Project - New Sensation (Dast Extended Mix)
34.Plazma - Mystery (Alex Astero & Evan Sax Club Mix)
35.Dj She ft. Rita Mojito - Open Space (Alex Milano Radio Edit)
36. Dj Vini - Girls Dance
37.INtegra - I need you (ExeSlim Remix)
38.Sergey Rubens - Perfect Night (Radio Edit)
39.Vera Brezhnev - Love Will Save the World (Dj Nile Radio Club Mix)
40.DJ Gollum & A. Spencer - TNT (Darius Finlay Remix)
41.Disco Superstars feat Nicco - Stay With Me (Extended Edit)
42.Dave Aude feat. Isha Coco - Figure It Out (Jeremy Word Club Mix)
43.Ayra - Tell
44.Bogdan Titomir - MMM (OST Pirammmida)
45.Veronika Agapova - Sun
46.Zov Cities - Spell Friend
47.Kirill Turichenko - Stop Me
48.Evgeny Sbitnev - Forget
49.Sonic Palms - Into The Sun (Club Mix)
50.Bernard Benedict feat. Katya Sharashkina - Wind (Radio Edit)
Aby zobaczyć ukryty tekst musisz być zalogowany, jeżeli nie masz konta
zarejestruj się
!
Informacja
Użytkownicy z rangą Gość nie mogą dodawać komentarzy.