Menu
Download
Polub nas!
Online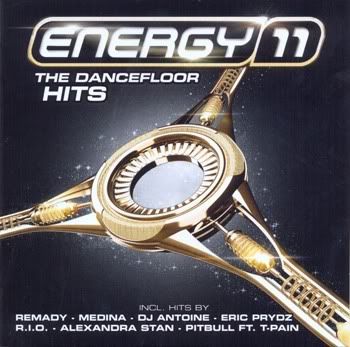 Artist:
VA
Album:
Energy 11 - The Dancefloor Hits
Year:
2011
Label:
TBA ENE
Genre:
Dance
Codec:
MP3
Bitrate audio:
249 Kbps avg VBR
Playtime:
1:13:57
Total Size:
137 mb
Tracklist
01. Mr Da-Nos - Cant Breath (R & N Radio Edit)
02. Alexandra Stan - Mr Saxobeat (Radio Edit)
03. DJ Antoine feat. Tom Dice - Sunlight (DJ Antoine vs. Mad Mark Radio Edit)
04. Pitbull feat. T-Pain - Hey Baby (Drop It To The Floor) (Radio Edit)
05. Remady feat. Manu-L - Way We Are (DJ Antoine vs. Mad Mark Radio Edit)
06. Medina - Gutter
07. Alex Gaudino feat. Kelly Rowland - What A Feeling (Radio Edit)
08. Armin Van Buuren feat. Laura V - Drowning (Avicii Radio Mix)
09. Electric Lady Lab - You & Me (Kato Remix Radio Edit)
10. Eric Prydz - Niton (The Reason) (Radio Edit)
11. Tony Junior & Nicolas Nox - You Aint Seen Nothin Yet (Radio Edit)
12. Christopher S feat. Max Urban - Star (Radio Edit)
13. R.I.O. - Miss Sunshine (Radio Edit)
14. Three n One - Reflect 2011 (Niels Van Gogh vs. Sunloverz Remix Edit)
15. DBN & Matty Menck feat. Rosie Henshaw - Redemption (Radio Mix)
16. E-Type - Back 2 Life (Ali Payami Remix Radio Edit)
17. Cassey Doreen - Girls Just Want To Have Fun (Money-G Edit)
18. G & G - Beautiful Day (Original Radio Mix)
19. Rico Bernasconi vs. Sasha Dith - Bollywood (Radio Mix)
20. Samuele Sartini feat. Amanda Wilson - Back Again (Original Radio Edit)
21. Ida Corr - What Goes Around Comes Around (Radio Version)
22. Minus 8 feat. Natalia Wohler (Bonus Track) - Dance Into The Night (Energy 2011 Anthem) (Original Mix)
Informacja
Użytkownicy z rangą Gość nie mogą dodawać komentarzy.