Menu
Download
Polub nas!
Online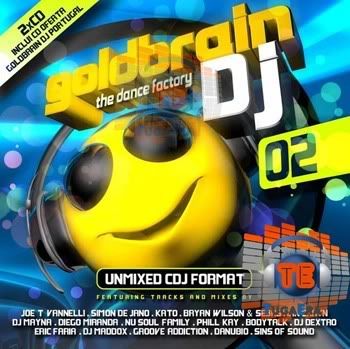 Artist:
VA
Album:
Goldbrain DJ - The Dance Factory 02
Year:
2011
Label:
Farol Musica
Genre:
Dance
Codec:
MP3
Bitrate audio:
320 Kbps
Playtime:
2:05:18
Total Size:
290 mb
CD 1
01. Bryan Wilson & Sebastian Crayn - Happy People (Extended Mix)
02. Dj Mayna feat. Debora Ghira - Tell Me (Diego Miranda Remix)
03. Joe T Vannelli - Do You Wanna Funk (Dj Dextro Remix)
04. Nu Soul Family - This Is For My People (Phill Kay Remix)
05. Kato feat. Outlandish - Desert Walk (Raaban Remix)
06. Groove Addiction - Live Is Life (Club Mix)
07. Michael Parsberg feat. Safri Duo & Isam B - Mad World (Raaban Remix)
08. Sins of Sound feat. Mc Y2K - Mirame (Original Mix)
09. Esteban Galo Vs Vincenzo Callea & Luca Lento - Vucciria (In Little Italy) (Vocal Extended Mix)
10. Simon De Jano & Two Fingers - Kong Fusion (Extended Mix)
CD 2
01. Danubio feat. Marlene Rhod - Papa (Was A Rolling Stone) (Original Mix)
02. Dj Maddox & Dj Sexation feat. Miami Inc.- We Need Love (Original Mix)
03. Eric Faria & Kika Lewis feat. Marlene Rhods - I Know You (Original Mix)
04. Bodytalk feat. Bruno Gomes - Fly Together (Club Mix)
05. Outta Level - For A Star (Phill Kay Smash Dub)
06. Amarga Project feat. Xiribita - Wawawiba (Danubio Remix)
07. Energy System - Brazil (Original Mix)
08. Phonic Lounge feat. Mc Angel - I Want You (Dub Mix)
09. Dj Grouse Pres. J. Lee feat. Katorz - Indecision (When The Night Is Over) (Eric Faria Remix)
10. Cool Sunshine - This Is True Love (NY Jazzy Fashion Mix)
Informacja
Użytkownicy z rangą Gość nie mogą dodawać komentarzy.