Menu
Download
Polub nas!
Online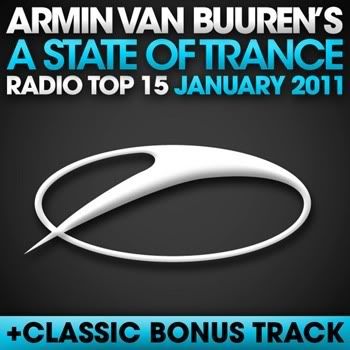 Artist:
VA
Album:
A State Of Trance Radio Top 15 - January 2011
Year:
2011
Label:
Armada Music (Holland)
Genre:
Trance
Codec:
MP3
Bitrate audio:
320 Kbps
Playtime:
2:02:38
Total Size:
281 mb
Tracklist
01. Super8 & Tab feat. Julie Thompson - My Enemy (Rank 1 Remix Edit)
02. Conjure One feat. Jaren - Like Ice (Marcus Schossow Remix)
03. Armin van Buuren feat. Christian Burns - This Light Between Us (Armin van Buuren's Great Strings Mix)
04. Thomas Bronzwaer - Still Waters (Original Mix)
05. Signum feat. Julie Thompson - Never Be The Same (Extended Mix)
06. Arnej - We Need Them (Club Mix)
07. Veracocha - Carte Blanche (Alex M.O.R.P.H. Remix)
08. Vast Vision - Ambrosia (Arctic Moon Remix)
09. Reminder feat. Cathy Burton - Love to Hold (Original Mix)
10. Adam Kancerski feat. Aneym - It Takes Time (Original Mix)
11. MEM - More Than Feelings (Original Mix)
12. Julian Vincent feat. Jessie Morgan - Shadows The Sun (Daniel Kandi's Bangin Mix)
13. Robert Nickson & Ruben de Ronde - Superlative (Jo Micali Remix)z
14. Pulser - In My World (Original Mix)
15. Gemini's Edge - Save You (Sam Stroke & Isaac Fisherman Remix)
16. Insigma - Open Our Eyes (Original Mix [Classic Bonus Track])
Download Links
Informacja
Użytkownicy z rangą Gość nie mogą dodawać komentarzy.