Menu
Download
Polub nas!
Online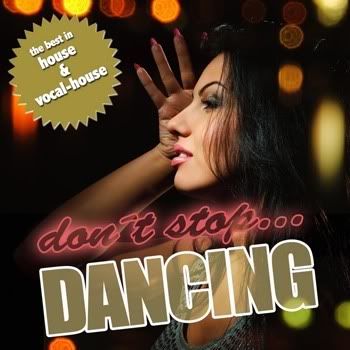 Artist:
VA
Album:
Don't Stop Dancing
Year:
2010
Label:
Tenor (Germany)
Genre:
Progressive House
Codec:
MP3
Bitrate audio:
320 Kbps
Playtime:
2:53:58
Total Size:
378 mb
Tracklist
01. Josh The Funky 1 - Alright (Niklas Gustavsson Remix)
02. Distant People feat. Hannah K. - Rhythm Of My Love (Cosmic Funk Remix)
03. Nash La'Salle - Right Now! (Andres Montae Remix)
04. Ansari - African Flute (Ruben Alvarez Remix)
05. Sasha Alazy feat. Jannae Jordan - I Wanna Go (Central Avenue Miami Club Mix)
06. Ron Carroll - The Only Way Is Up (Disco Darling's Higher Vocal Mix)
07. Mike Polo - Pasilda (Benny Royal & Robbie Taylor Remix)
08. Cosme Martin - Afrodita (Christian Vila Big Room Remix)
09. Stereo Mutants feat. Emelia Dabrowski - I Wonder (Stereo Mutants Afro String Mix)
10. Bastian Creon - All Because Of You (Original Mix)
11. Adrian Davis - Southern Comfort (Original Mix)
12. Yves Murasca Pres. Vintage System - Let Me Dance For You (The Good Guys Remix)
13. Mike Casa & Paris FZ - Is Love You (Micah The Violinist & Oliver Schmitz Mix)
14. Christian Vila - Joy & Happiness (Original Mix)
15. Gregor Wagner feat. Karl Frierson - Talking About House (Abel Ramos Meerbusch With Love Mix)
16. Lovebeat feat. Polina Griffith - Find Out (Original Mix)
17. Beatchuggers & Alexander Brown - Solo (Disfunktion Remix)
18. Markus Gonzales & George Frais - Mambo (Original Mix)
19. Eric Tyrell feat. Lana Gordon - Love Goes Around The World (Plastik Funk Remix)
20. Joshua Grey vs. Bernie-X & Terry B. - I Need This Rhythm (Chris Montana vs. Boris Roodbwoy S2G Vocal Mix)
21. Andrew Phillips - The Saxophonist (Original Mix)
22. STJ feat. Lys Jane - Free (Vegas United Remix)
23. Studiopunks feat. Soraya Vivian - I Don't Want Nobody (Craig Young Remix)
24. Danny Dove & Ben Preston feat. Susie Ledge - Falling (Disfunktion Remix)
25. Dion Mavath - Let You Know (Original Mix)
Download Links
Informacja
Użytkownicy z rangą Gość nie mogą dodawać komentarzy.