Menu
Download
Polub nas!
Online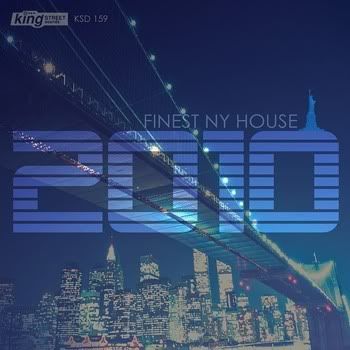 Artist:
VA
Album:
Finest NY House 2010
Year:
2010
Label:
King Street Sounds (US)
Genre:
House
Codec:
MP3
Bitrate audio:
320 Kbps
Playtime:
2:31:51
Total Size:
334 mb
Tracklist
01. P'taah - Fade Away (Silver City Space Mix)
02. Ananda Project - Beautiful Searching (Rasmus Faber Remix)
03. Barbara Tucker - One Desire (Abel Ramos Ibiza With Love Mix)
04. Jamico - This Luv Is Real (Noferini & Marini Full Vocal Mix)
05. G.IL.V. - My Form (Criminal Vibes Electro Mix)
06. DJ Roland Clark - If I Was A DJ (Supernova Remix)
07. Malena - Olvidarte (Marshall Remix)
08. Chris Perez - R U Feeling Me (Alex Kenji Main)
09. Dennis Ferrer - Touched The Sky (Louie Vega Re-work)
10. Soulstar Syndicate - Take Me (Sean Mccabe Main Vocal Mix)
11. jOHNNYDANGEROUs - How Deep (Groove Assassin Classic Remix)
12. Dennis Ferrer - Dem People Go (Kruse & Nürnberg Remix)
13. Bliss - Planetary Voyage (Spencer Parker's A Gun For Hire Vocal Remix)
14. DJ Romain - De Ja Vu (Lips Remix)
15. jOHNNYDANGEROUs - Clear My Mind (Aki Bergen Remix)
16. DJ Roland Clark - My Urban Soul (Mr.v 2010 Revision)
17. P'taah - Everything Is Naturally Free (A Danny Krivit Edit)
18. Ananda Project - Hanging On (Feliciano Vocal Classic Mix)
19. Heather Johnson - Million Miles (Alix Alvarez New Vox Mix)
20. Blaze - We Are One (Kiko Navarro New Life Rmx)
Download Links
Informacja
Użytkownicy z rangą Gość nie mogą dodawać komentarzy.