Menu
Download
Polub nas!
Online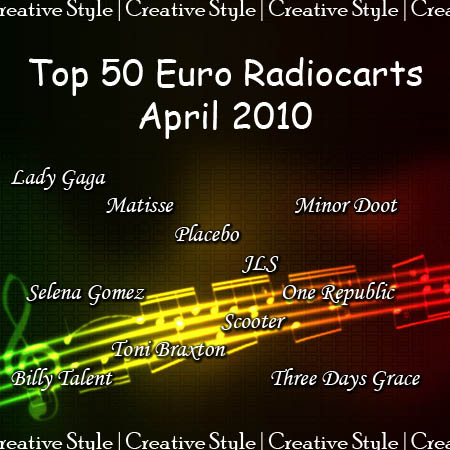 Artist: VA
Album: Top 50 Euro Radiocharts
Date: April 2010
Style: POP / R'N'B / Club
Track: 50
Quality: VBR / 44 kHz / Stereo
Size: 340 mb
Tracklist:
01.Lady Gaga - Telephone
02.Justin Bieber - One Time
03.Dana Rayne - Overload (radio edit)
04.Matisse - Better Than Her (radio edit)
05.The New Cities - Dead End Countdown
06.Knaan - Wavin Flag (The Celebration Mix)
07.Sariah - Deep n luv (radio edit)
08.Kelly Clarkson - All I Ever Wanted
09.Steve Aoki feat. Zuper Blahq - Im in the house
10.Lady Antebellum - Need You Now (radio edit)
11.Culcha Candela - Monsta
12.Veronica - If you wanna fly (radio edit)
13.Jasper Forks - River Flows In You
14.Miley Cyrus - When i look at you
15.Scooter - Stuck on replay
16.Delerium F. Kreesha Turner - Dust in gravity (Radio Edit)
17.Owl City - Fireflies
18.Boys Like Girls - Heart heart heartbreak
19.Deep Sound - Crank (Original Mix)
20.Jls - Everbody In Love
21.One Republic - All the right moves
22.Example - Wont go quietly (radio edit)
23.Three Days Grace - Break
24.Livvi Franc - Automatik
25.Placebo - Bright Lights
26.Shontelle - Impossible (radio edit)
27.Minor Dott - Drumbox (Spartaque Remix)
28.Toni Braxton - Yesterday
29.Jason Derulo - In My Head
30.Bananarama - The Runner
31.Frauenarzt und Manny Marc - Disco Pogo
32.Magnetic Bbrothers - One Night (Original Mix)
33.Goldfrapp - Rocket (radio edit)
34.Gucci Mane ft Usher - Spotlight
35.Mayday Parade - Kids in love
36.Ph Electro - San Francisco (radio edit)
37.Selena Gomez - Naturally (Dave Aude Edit)
38.Justin Bieber - Baby
39.B.O.B feat. Bruno Mars - Nothin On You
40.Drake - Best i ever had
41.Kim Sozzi - Secret Love (Stellar Project Radio Edit)
42.Lady Gaga ft. Beyonce - Telephone (Dj Dan Vocal Remix)
43.Tinie Tempah - Pass Out (radio edit)
44.Sidney Samson ft. Lady Bee and Bizzey - Come on lets go (Club Mix)
45.Alex Sayz ft. Evi - Hate to Love
46.Bushido - Alles Wird Gut
47.Billy Talent - Rusted from the rain
48.Omarion - I Think My Girl Is Bi
49.Adam Lambert - Whataya Want From Me (Fonzerelli remix)
50.Young Money ft Loyd - Bedrock
Aby zobaczyć ukryty tekst musisz być zalogowany, jeżeli nie masz konta
zarejestruj się
!
Informacja
Użytkownicy z rangą Gość nie mogą dodawać komentarzy.