Menu
Download
Polub nas!
Online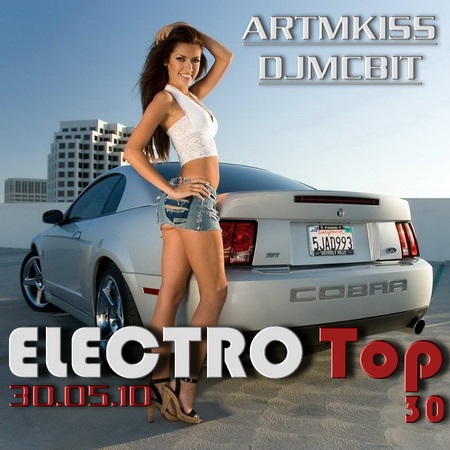 Artist: VA
Album: Electro Top from DjmcBiT vol.2
Label: artMkiss
Date: 30.05.2010
Style: Electro House
Track: 30
Quality: 320 kbps / 44.1KHz/ Full Stereo
Size: 331mb
Tracklist:
1.ADO! - Pop And Jerk (Clouds Resistance Mix)
2.Ali Nadem - Disto King
3.Ali Nadem & Danny Elfman - Judgement Day
4.Cool Project vs DJ Solovey Mozart Di Figaro - Electro Classic
5.Coss - Wicked Beats Original Mix
6.D bag - Milk (Gigi Barocco Remix)
7.Daft Punk - Harder St. BeethovenRemix
8.Daivd Guetta ft. Kid Cudi - Memories (Ali Nadem Remix)
9.Dj Antention - Beny Blanco (Original mix)
10.DJ Antention - Jump!-The Boomzers Remix CRUX
11.DJ Jesus Luz - Around The World (Uppermost Remix)
12.DVJ ELECTRA DVJ Electroparty (Fast Foot Remix)
13.Electrixx - LSD Expiriens (Hard Manifesto Remix)
14.Erol Alkan feat. Boys Noize - Avalanche Religion Remix
15.G & G - We Just Criticize (Flipside & Michael Parsberg Remix)
16.Gooniez TuneZ- Big Booty Bitches Club Mix
17.Josh Makorto - JUMP (IKKI Remix)
18.Laidback Luck - Fuck The Revolution Cool Project Remix
19.Molella - Revolution (DJs From Mars Club Remix)
20.Polymorphic-Rock-To-Play-Proxy-Re-Work
21.Rakez - Here I'AM (Original mix)
22.Rotze - Lowlife (Dyebox Remix)
23.Rusko - Cockney Thug (Caspa rmx NUROFEN re remix)
24.Sabotage VS Peter - This Place is Death Neus Remix
25.S-File - Midnight Traffic (ST. BEETHOVEN REMIX)
26.Stream Dance Project - SCREAM For FREDDY Brain Explosion ver. 3 Cut Version
27.Stream Dance Project - Under DRUG Brain Explosion 2
28.The Black Spankers - Jerry Can (Original Mix)
29.The Soulbrothers-21st Century Disco Shit Miles Dyson Remix
30.Van Styles pres. MagicVision - Shotgun Short Mix
Aby zobaczyć ukryty tekst musisz być zalogowany, jeżeli nie masz konta
zarejestruj się
!
Informacja
Użytkownicy z rangą Gość nie mogą dodawać komentarzy.