Menu
Download
Polub nas!
Online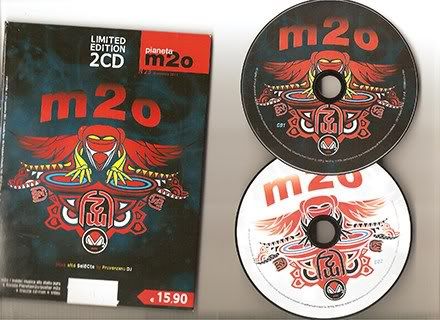 Artist:
VA
Album:
Pianeta M2O Vol 23
Year:
2011
Label:
Time Italy
Genre:
Club House, Dance
Codec:
MP3
Rip:
images, CUE file for the first CD only
Bitrate audio:
258 Kbps avg VBR
Playtime:
1:57:25
Total Size:
219 mb
CD 1
01. (intro) LIZZI B. feat. DAVIDE BORRI "Bring Us All Together"
02. THE CUBE GUYS & LUCIANA "Jump"
03. FELIPE C "Taxi"
04. RALVERO & DADZ 'N' EFFECT "In My Bedroom"
05. R.I.O. feat. U-JEAN "Turn This Club Around"
06. DJ ANTOINE vs TIMATI feat. KALENNA "Welcome To St. Tropez" dj antoine vs mas mark rmx
07. GOODWILL & HOOK N SLING "Take You Higher"
08. RALPH GOOD feat. POLINA GRIFFITH "SOS"
09. DIRTY SOUTH & THOMAS GOLD feat. KATE ELSWORTH "Alive"
10. SAK NOEL "Loca People (What The Fuck)"
11. ROSS "Arabica"
12. SYSTEM 3 "From Paris 2 Rome"
13. HARDWELL "Cobra (Official Energy Anthem 2012)"
14. SANDER van DOORN "Drink To Get Drunk"
15. PHUNKERZ "Come Into This Side"
CD 2
01. FEDERICO SCAVO feat. ANDREA GUZZOLETTI "Strump"
02. MARTIN SOLVEIG & DRAGONETTE feat. IDOLING!!! "Big In Japan"
03. GET FAR vs JILL JONES "This Is How To Feels"
04. DAB feat. SISSA "I Wonder"
05. TOM HANGS feat. SHERMANOLOGY "Blessed"
06. BASTO "Again And Again"
07. LUCA RUCO "I Like It" provenzano dj rmx
08. MARTINELLI & TERRY JEE "Superstar"
09. GUY'DO & DJ REBEL feat. MO "Celebration"
10. BODYBANGERS feat. CARLPRIT & LINDA TEODOSIU "One More Time"
11. PROMISE LAND feat. SANDY B. "Never Be Lonely"
12. GIO DI LEVA "Blood Pressure"
13. DENIZ KOYU "Tung!"
14. NARI & MILANI vs MAURIZIO GUBELLINI "Slash"
15. KRISTINA CASOLANI & PIZZA BROTHERS "Get Out" pizza brothers club mix
Informacja
Użytkownicy z rangą Gość nie mogą dodawać komentarzy.