Menu
Download



Filmy

Gry

Muzyka

Programy

Dokumenty

GSM i PDA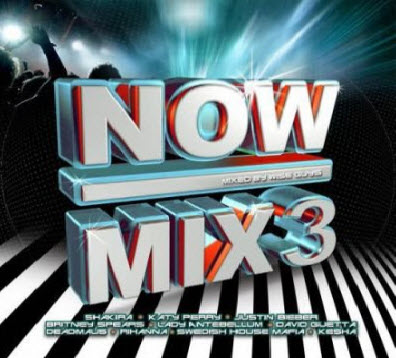 VA - Now Mix 3 - Mixed by DJ Wise Guys (2011)
2CD | Release: 2011 | Label: EMI | MP3 320 Kbps | 362 MB
Genre: Euro Dance, Euro House
Track List:
CD 1:
1 Shakira feat. Dizzee Rascal ¬ Loca (Freemasons Mixshow Extended Edit)
2 Katy Perry¬ Teenage Dream (Kaskade Club Remix)
3 Justin Bieber ¬ Somebody To Love (J-Stax Remix)
4 Ke$ha ¬ We R Who We R (Fred Falke Radio Mix)
5 Chris Brown ¬ Yeah 3X (Single Remix)
6 Britney Spears ¬ Hold It Against Me (The Alias Club Mix)
7 Ricky Martin & Joss Stone ¬ The Best Thing About Me Is You (Jump Smokers Dance Version)
8 Soraya ¬ Dreamer (Brian Cross Remix)
9 Taio Cruz feat. Kylie Minogue ¬ Higher (7th Heaven Club Remix)
10 Ace of Base ¬ All For You (Michael Mind Project Remix)
11 Nicki Minaj feat. Jay Sean ¬ Your Love (Remix)
12 Usher feat. Pitbull ¬ DJ Got Us Fallin' In Love (Almighty 12 Inch Mix)
13 Boney M ¬ Barbra Streisand vs Marilyn Monroe (Club Mix)
14 Hurts ¬ Sunday (Seamus Haji Remix Radio Edit)
15 Dover ¬ Dannaya (Future Presidents Remix)
16 Jessie J ¬ Do It Like A Dude (Jakwob Mix)
17 Chico Neves ¬ Favela Bounce
18 Mike Posner ¬ Cooler Than Me (Gigamesh Radio Edit)
19 Gums ¬ Don't Give Up (Cutee B Remix)
20 Mohombi feat. Akon ¬ Dirty Situation (Paris Cesvette Remix)
21 Lady Antebellum ¬ Need You Now (Jason Nevins Rhythmic Single Edit)
CD 2:
1 David Guetta feat. Rihanna ¬ Who's That Chick ? (Afrojack Remix)
2 Swedish House Mafia vs. Tinie Tempah ¬ Miami 2 Ibiza (Extended Vocal Mix)
3 The Black Eyed Peas ¬ The Time (Dirty Bit) [Afrojack Remix]
4 Miami Horror ¬ Sometimes (Hook N Sling Remix)
5 Rihanna ¬ Only Girl (In The World) (Rosabel's "Only Dub In The World")
6 Roxette ¬ She's Got Nothing on (But The Radio) (Adam Rickfors Dub Edit)
7 The Ting Tings ¬ Hands (Michael Woods Remix)
8 Neon Trees ¬ Animal (Shuttle Remix)
9 Jamiroquai ¬ White Knuckle Ride (Seamus Haji Remix)
10 Caro Emerald ¬ A Night Like This (Tom Trago Remix)
11 Magnetic Man Feat. Katy B ¬ Perfect Stranger (Steve Angello Remix)
12 Kelis ¬ Scream (LA Riots Remix)
13 Robyn feat. Laidback Luke ¬ Indestructible
14 Nelly Furtado ¬ Night Is Young (Burns Vocal Remix)
15 Nicole Scherzinger ¬ Poison (Cahill Rockstar Dub Mix)
16 Pitbull feat. T-Pain ¬ Hey Baby (Drop It To The Floor) (AJ Fire Remix )
17 deadmau5 + Wolfgang Gartner ¬ Animal Rights
Download links:
Aby zobaczyć ukryty tekst musisz być zalogowany, jeżeli nie masz konta
zarejestruj się
!
Informacja
Użytkownicy z rangą Gość nie mogą dodawać komentarzy.